 At the 2015 Conclave, SigEp undergraduates voted to adopt the Balanced Man Program across all chapters. As delegates shared the obstacles that keep their chapters from properly implementing the BMP, the consensus was that they needed a tool to help them overcome these challenges:
We reinvent the wheel every year — with new officers comes a brand new BMP.

We need to find ways to make the BMP more personalized to individual brothers.

We wish we knew what other brothers in our chapter were working on and achieving.
We moved quickly to launch what would become known as the BMP App, a desktop and mobile platform to keep track of your development progress in the Balanced Man Program. Since launching, we've received incredible feedback on how the platform can continue to improve and make the lives of challenge coordinators and participants easier.
We've spent the last few months listening to and implementing your feedback, and we're excited to share the next version of the BMP App, which brings an improved member development experience to both desktop and mobile! Check out some of the enhancements below and download the BMP App to see for yourself!

Members will now access the BMP App and mySigEp using one single username and password called FSID (Fraternity-Sorority ID). No more having to add ".sigep" to the end of your email address!
INSTANT ACCESS FOR NEW MEMBERS
Once a chapter officer reports their new members in mySigEp, new members will receive instantaneous access to finish their registration and login to the BMP App!
A BRAND NEW MOBILE EXPERIENCE
We've designed a beautiful new mobile experience for you to be able to take the BMP on the go!
Challenge participants will now be able to easily access upcoming activities and meetings, as well as communicate with chapter brothers through the community feed.
You can now toggle the BMP App to dark mode! Don't worry about straining your eyes while completing challenge activities or chatting with your brothers. Toggle on dark mode to see how it looks!
NOTE: If you've switched your entire phone to dark mode, you cannot override the phone's default settings. If your phone is in light mode, you can switch back and forth between light and dark modes in the BMP App.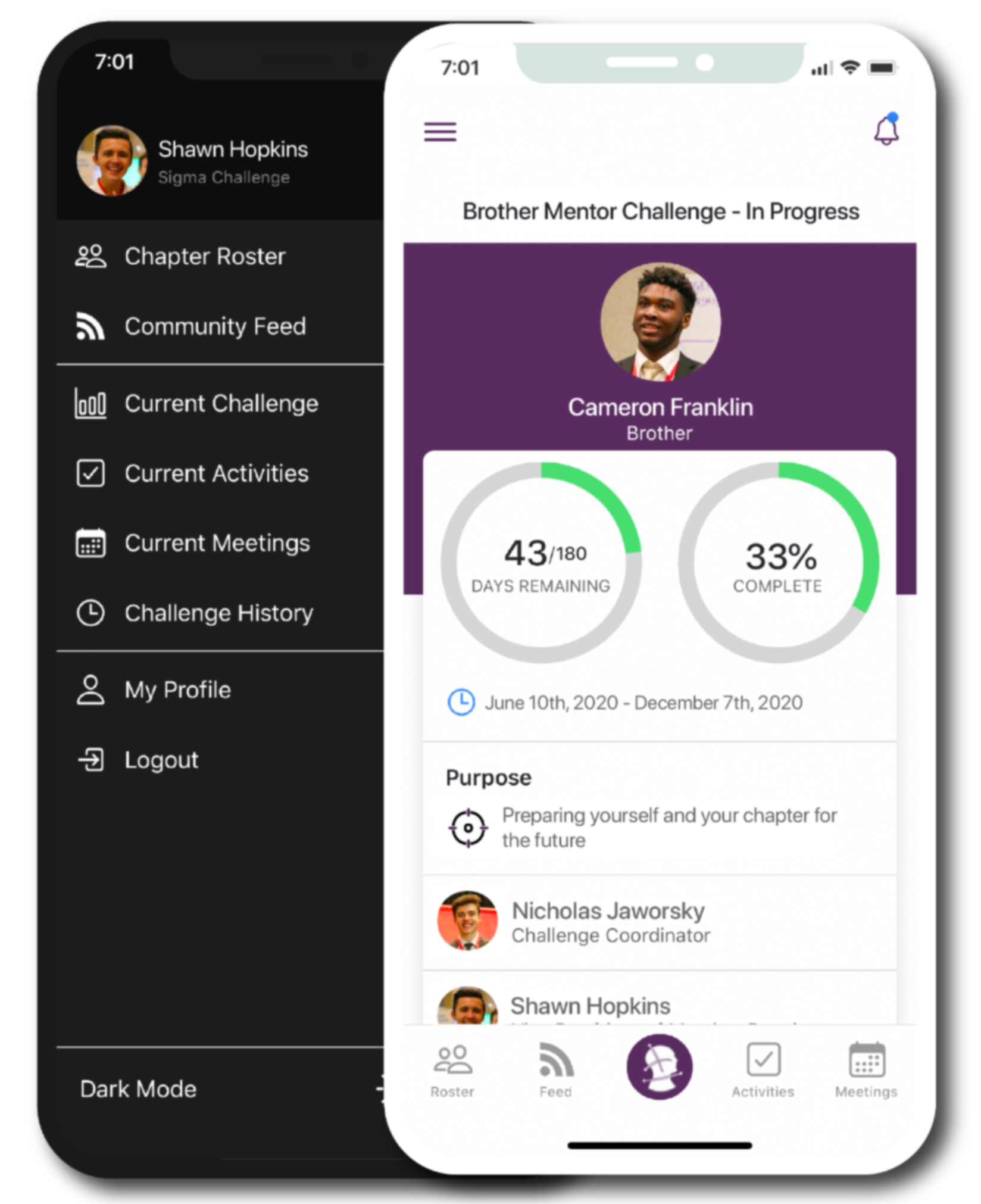 A SIMPLIFIED ADMIN EXPERIENCE
We've built in training for vice presidents of member development and challenge coordinators to learn how to create and deploy challenges on the new "Challenge Administration" page!
The development committee can now focus more time on finding content experts and professional mentors, and less time creating challenges. Follow the step-by-step instructions to create a new challenge or visit the new centralized activity approval page to help your challenge participants keep moving!
NEW REMOTE-FRIENDLY ACTIVITIES ADDED
As we navigate the COVID-19 pandemic, brotherhood is more important now than ever. That's why it's important to plan ahead with BMP challenge activities that are designed to be virtual-friendly. We've pre-loaded several new activity options that you can complete whether you're on campus or at home! Challenge coordinators can find remote-friendly content by looking for this designated icon.
A brand new door to your dear old fraternity.
EASILY UPDATE CONTACT INFORMATION
Update your info to receive updates from SigEp and your chapter brothers.
ACCESS AND UPDATE YOUR SIGEP RESUME
See awards and scholarships you've won and manage your employment and education history.
SEARCH THE NEW ALUMNI DIRECTORY
Stay in touch with your alumni and brothers from around the country.
VIEW YOUR SIGEP DONATION HISTORY
View your donor history and Board of Governors status for the SigEp Educational Foundation
SigEp's technology now uses FSID (Fraternity-Sorority ID) to login to mySigEp, the BMP App and greekbill – one single username and password for all our platforms!
---
Easily Track Potential New Members
Losing old spreadsheets are a thing of the past! Your recruitment committee can spend less time reinventing the wheel and now easily work from the same information by using the mySigEp recruitment tools.
Generate Leads Through Integrated Forms
Membership interest and referral forms are now linked to your chapter site! Set up your laptop at your next recruitment event with the form open, or publish your link on social media to begin seeing the leads come in!
View Your Progress With Recruitment Dashboards
See a five-year historical snapshot of your chapter's manpower, persistence to achieve your recruitment goals, progress towards fully implementing year-round recruitment and executing the Balanced Man Scholarship
Recruitment becomes a chapter-wide activity.
The mySigEp recruitment tools allow your entire chapter to participate by adding potential new members and helping recruit them into the chapter.
Moving your members through the pipeline is easier than ever by tracking the "Lead Status" of a potential new member. Switch them between potential new member, initial contact, bid extended, or exhaust them from your list entirely. Your team will easily be able to see who is in each category and note the next steps to convert that lead to a new member.