 No matter what your campus does this year – virtual, hybrid, in-person – we can provide our brothers an experience that is far and away better than anything else on campus, an experience that not only keeps brothers in the chapter, but also strengthens their love for SigEp because it was there for them when they needed it.

We can deliver the experience that our brothers need… We just have to think differently and avoid restricting our thinking to how we've done things in the past. This is the time to double down on creative thinking.
We can hold challenge activities and programs in smaller groups, social distanced with masks … we just have to figure out how to do that on our campus.

We may have to iterate the program several times before we reach everyone, but we'll get there and we'll get better each time we do it.

We can get more brothers involved in executing member development and brotherhood programming, which may allow us to move faster in delivering small, in-person group activities and avoid scenarios where brothers are sitting idle, feeling lost or alone, or even questioning the value of SigEp.
The new BMP App is being rolled out in late-August and will be helpful to you as you build an invaluable experience for your brothers this year, no matter where they are, no matter what direction your school takes with classes.
The new functionality offers a much-improved experience for Vice Presidents of Member Development, challenge coordinators, volunteers and all brothers. We've heard your feedback and implemented it. The new BMP App will be chock full of new challenge activity suggestions. Many activities are able to be done in small groups. And things that can be done virtually are easily identified by an icon next to the activity. Check out some of the new enhancements below:

Members will now access the BMP App and mySigEp using one single username and password called FSID (Fraternity-Sorority ID). No more having to add ".sigep" to the end of your email address!
INSTANT ACCESS FOR NEW MEMBERS
Once a chapter officer reports their new members in mySigEp, new members will receive instantaneous access to finish their registration and login to the BMP App!
A BRAND NEW MOBILE EXPERIENCE
We've designed a beautiful new mobile experience for you to be able to take the BMP on the go!
Challenge participants will now be able to easily access upcoming activities and meetings, as well as communicate with chapter brothers through the community feed.
You can now toggle the BMP App to dark mode! Don't worry about straining your eyes while completing challenge activities or chatting with your brothers. Toggle on dark mode to see how it looks!
NOTE: If you've switched your entire phone to dark mode, you cannot override the phone's default settings. If your phone is in light mode, you can switch back and forth between light and dark modes in the BMP App.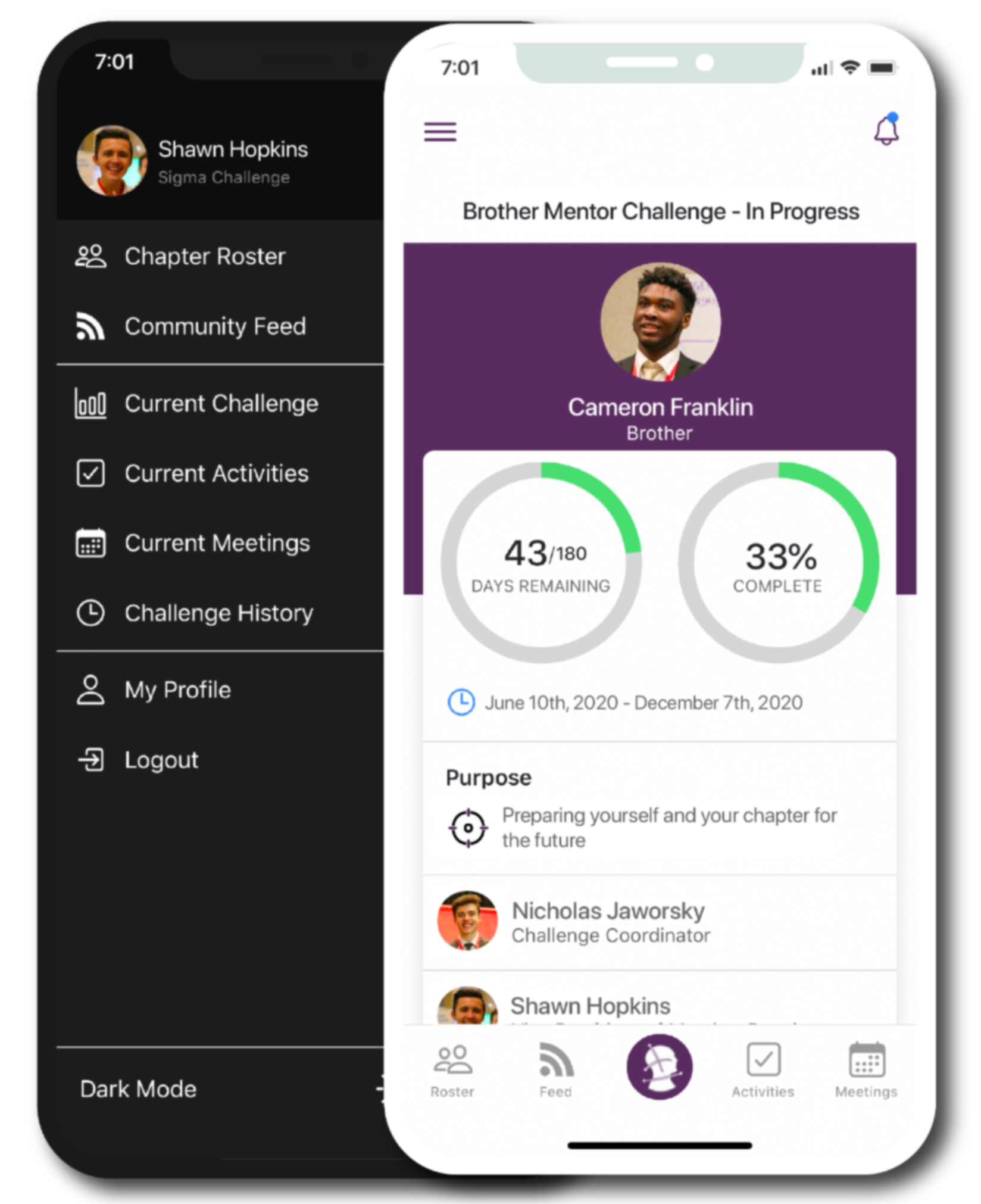 A SIMPLIFIED ADMIN EXPERIENCE
We've built in training for vice presidents of member development and challenge coordinators to learn how to create and deploy challenges on the new "Challenge Administration" page!
The development committee can now focus more time on finding content experts and professional mentors, and less time creating challenges. Follow the step-by-step instructions to create a new challenge or visit the new centralized activity approval page to help your challenge participants keep moving!
NEW REMOTE-FRIENDLY ACTIVITIES ADDED
As we navigate the COVID-19 pandemic, brotherhood is more important now than ever. That's why it's important to plan ahead with BMP challenge activities that are designed to be virtual-friendly. We've pre-loaded several new activity options that you can complete whether you're on campus or at home! Challenge coordinators can find remote-friendly content by looking for this designated icon.